We hear all the time that rappers want to be actors and actors want to be rappers.  This seems to hold true since we see old YouTube videos of Will Smith rapping over the DJ Jazzy Jeff beat, "Summertime" then starring in hit movies like, "Bad Boys" and "Men In Black". We can't forget about Donnie Wahlberg's leap from rapping as Marky Mark and Funky Bunch then starring in hit movies like "Ted" and "Step Brothers".  With this being said there are countless examples of rappers and actors switching sides, but what about the athletes who wanted to get in on Hip Hop! Yes, MTV, BET, VH1 are all destinations that a good bit of athletes wanted to visit. 
Shaquille O'Neill was a great basketball player, but let's not forget about his short lived rap career. Shaq Diesel was rapping "I Know I Got Skillz" while dunking on opponents and breaking backboards at the same time. We have star basketball athletes like Allen Iverson, Metta World Peace (Ron Artest), and Lamar Odom all online spitting bars in their freestyle raps.  Some athletes have even put out real projects like mixtapes and albums that could be bought in stores! Of course none of these guys were really that great but it was good entertainment nonetheless.
We took some time to line up who is the real Michael Jordan of the Rap Game! Who is Kobe, LeBron, Magic, Larry Bird, and so on?  Who would top the charts? For reference, this article predicts the top 2016 hip hop album sales. Now here is our Hoops & Hip Hop Comparisons played out. We took top Hoopers and compared them to Hip Hop's top Rappers….
Michael Jordan / Jay – Z
This one is easy.  MJ was the best to do it and so is Hov! Two initials for them both JZ and MJ. Jay refers to himself as the Mike Jordan of rap in multiple versus. Both Leaders who master their craft and became very powerful in business with them being the brand.
Larry Bird / Eminem
Both considered the Great White Hopes for their race. They took over predominantly black led industries/genres or sports and will go down in history as possibly the greatest to do it!  
Magic Johnson / Fabolous
Magic and Fab are both flashy and known for their style and mellow personalities. Magic was the peoples champ in LA as Fab is to NYC. Both knew how to dress and people are drawn to them.
Kobe Bryant / Nas
Kobe and Nas both are students of their craft and used their knowledge along with their talents to be the best. Very deep and philosophical with serious personalities when it comes to their job. Arguably one of the greatest to ever do it in their industry.
Shaquille O'Neal / Biggie Smalls
Both of these guys came into to the game and immediately turned heads due to their size and abilities to dominate.  Both had issues with their biological fathers not being around and used this void to better their lives and master their crafts. Both had internal struggles and nasty fallouts with their once best or close friend. Similar guys in that they were silly at heart but shook the ground when they were mad.
Allen Iverson / Camron
AI and Cam were similar in that they both were confident, cocky, and flashy. Iverson was always the player that you loved to hate as Cam is the rapper you hate to love. Very nonchalant with attitudes that reflected you need them more than they need you. Both sort of got in their own way and somewhat ended their careers due to their egotistical and overly confident ways. Both changed the game and set trends!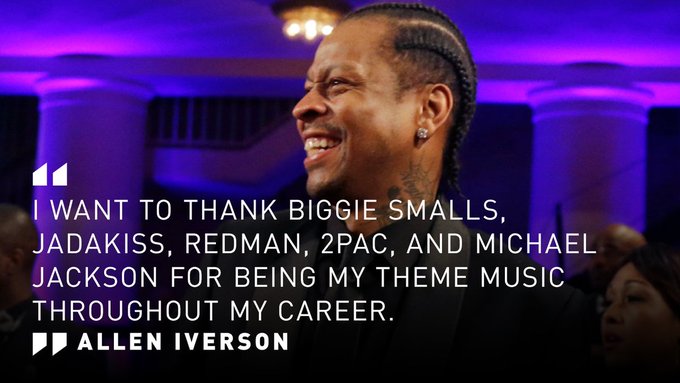 LeBron James / Tupac
Each of these guys are/were arguably were the best to ever do it in their industry.  Both will stir up a good debate for ages based on what they accomplished in their industry. Either you love these guys or hate them, there is really no in between. Leaders of their coasts and held the torch wherever they went. Similar in that they both left their team and switched sides to get what they want. Some feel both sold out but can't deny both are/were legends.
Reggie Miller / Common
Both loyal to their teams and treated everyone with the utmost respect.  They each had their beefs with other superstars but more than likely because they weren't getting the credit they deserved or simply walked in the shadows of other competitors who were even bigger. Unique in their ways that they deserved legendary status and will be remembered forever.
Dwayne Wade / Big L
Both these guys are/were silent assassins. They were loners to a certain extent but held it down and carried their load to help lead their team to victory. These guys are greats in the game and industry that they're in – no denying that!
Tim Duncan / Drake  
These guys come from places where you didn't expect stardom to rise. To a certain extent they both have a layer of corny to them but are legends in their own right. They both will be in the industry for years to come and will hold multiple championships and reign in first place. Quiet guys that don't want any trouble but will let their actions speak when tested.
Steph Curry / Lil Wayne
These guys were small and flew under the radar until it was their turn to carry the load. Both were under estimated until called upon.  When you look at their teams they both have a strong roster but are clearly the leader to make the team great. Very shifty guys who changed the game forever. Both have been accused of coming from another planet due to the unusual talents.